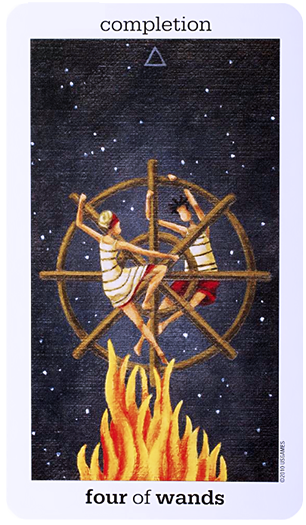 Aries: Four of Wands
This month — with your ruling planet (Mars) back in your sign, you should feel like you're getting your second wind and making strides toward accomplishing what you've set out to do.
The Four of Wands — this version from the Sun and Moon Tarot — delivers a boost of confidence and a renewed sense of validation, It encourages you to push past  limitations and reach for the stars.
This card is all about reflecting on accomplishments and looking forward to where those accomplishments may lead. It speaks of rejoicing and celebrating — whether this means planning for a party or special event, or getting yourself out of the doldrums and washing away the blues.
The Four of Wands takes the "dream big" energy that came with the Three of Wands and turns it into something tangible, solid and lasting. It represents a joyous celebration: a marriage, a promotion, the birth of a child.
It tells you that "this is only the beginning" of something you've already established and that it's going to just keep getting better and better. It's not the time to isolate or withdraw from social opportunities. Look around you and take note of all you've accomplished thus far. Chances are good there's a lot to be grateful for and a cause for celebration right there in front of you.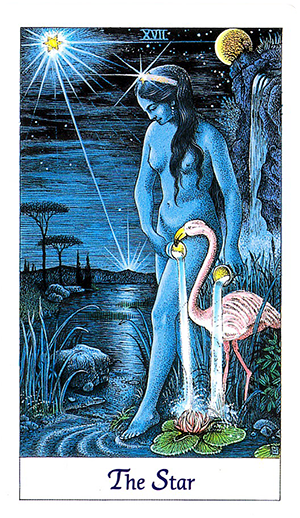 TAURUS: The Star
With your ruling planet (Venus) moving forward again, and rising each day as a morning star, it's time for you to start doing the same.
This is the Star card from the Cosmic Tarot. It represents hope and faith in the Universe. It tells you that in spite of all your trials and tribulations,everything is as it should be, and that in the end everything is going to be alright.
The Star card is associated with Aquarius as the Water Bearer archetype. It is a card of compassion, inspiration, intuition and faith.
It also represents a sense of rebirth and renewal. As it follows the Tower card — which is associated with disaster and destruction — it can serve as a welcome refuge or a beacon of hope.
This card is about getting perspective. Putting your faith in the Universe and seeing where you fit in. Getting in touch with your own capacity for awe and reverence. And feeling inspired by nature and the beauty that surrounds you.
It's the sense we have that everything will be alright — even if we have to push past our own doubts and fears. It's also about transmuting those fears and finding a productive outlet for them. Art, music, poetry, dance, creative self-expression are all very meaningful manifestations of the Star card's energy.
GEMINI: Princess of Swords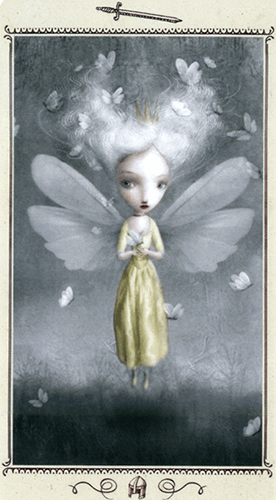 Thoughts flow through you mind this month that are uplifting and enlightening. It is time to rise above anything that has been bothering you and look towards new ways of thinking.
This is the Princess of Swords from the  Ceccoli Tarot. She is all about communications, ideas, information and news. She is generally very curious, a good judge of character, quick to size up others and able to see through ulterior motives and agendas.
She's attentive, observant and curious, taking in information in from all directions. There's a sort of effortless buoyancy here as she floats inches above the ground, surrounded by tiny white butterflies.
The butterflies swirling around her head are like thoughts and ideas drifting in and out of consciousness. And there's another white butterfly, clasped gingerly in her hands, as a symbol for speaking the truth with grace and delicacy.
The Princess of Swords reminds you to remain alert, adaptable and poised for action If she makes an appearance in your life this month, know that the message she delivers is of some importance. If instead it refers to you, make sure you're willing to step up and tell the truth — even if it hurts — and to accept it from others as well.
Cancer: The Sun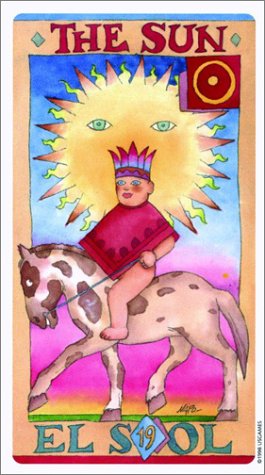 The Sun will be in your sign for most of this month. As a result you want to be focusing more on what is right in your world rather than what might be wrong.
This is the Sun card from the beautiful Napo Tarot. It's associated with happiness, optimism and vitality. It refers to being present in the moment and celebrating just being alive.
Look around you and take notice of the blessings that surround you. Step away — at least mentally — and turn your attention away from work and mundane affairs long enough to soak in the energizing rays of the Sun.
The Sun is a happy–go-lucky card that speaks of "seizing the day." It encourages us to cast our worries aside and tap into the childlike wonder that inspires us to laugh, play, sing and dance — like the joyful figure in this card.
The Sun reflects your own inner light and inspires you to let it shine. It encourages you to say yes to life rather than letting your troubles hold you back. It tells you to turn your face to the Sun rather rather than looking back over your shoulder toward whatever caused you to dim your light in the first place.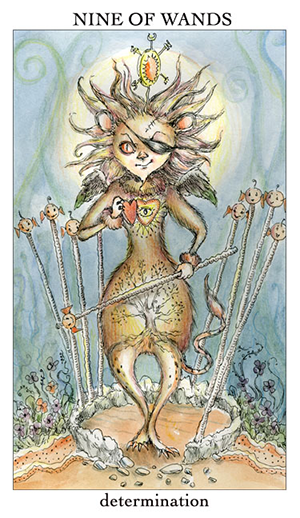 LEO: Nine of Wands
You may have to dig deep this month to push past limitations and remain focused on your goals.
With three planets retrograde now in your house of work and self-improvement, , it may seem like there's a lot of work to do and not enough hours in the day to do it.
This is the Nine of Wands from the Joie de Vivre Tarot. The figure in this card is surrounded by minor obstacles. A half formed wall and 8 flimsy rods encircle her with another held in her hand.
She herself looks a bit worse for the wear. She's got fresh stitches on her forehead and patch over one eye. But if you look at the other symbols on the card — the compass, the world tree and eye peering out from behind her open heart — and lets not forget the angel wings! — you can see how these references are more about getting insight into where you're heading than focusing on the obstacles that have held you back.
You may have been frustrated with the lack of progress — or worse — come *this close* to completing your journey, only to find another road-block directly ahead of you. But if you look at it from an evolutionary perspective, you may be better able to understand why you've been forced to step back and to re-evaluate your needs. Perhaps the setbacks you've encountered haven't been setbacks at all. Perhaps they've been lessons in disguise.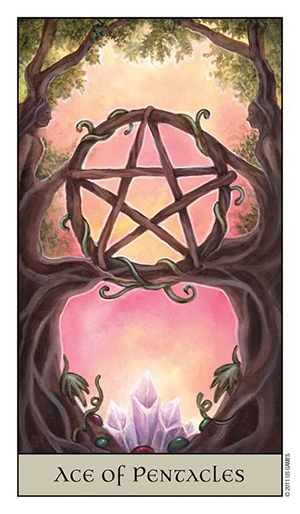 VIRGO: Ace of Pentacles
There's no time like the present for putting your plans into action and working toward manifesting your goals
The Ace of Pentacles — this version from the Crystal Visions Tarot — represents the start of something new, in this case new financial opportunities. It encourages you to plant seeds that you can tend to, nurture and grow.
You may be in line for a raise or promotion, or you could learn of job opportunity that involves a bigger salary. You could also be the benefactor of someone else's generosity. Either way, you should have more opportunities and more financial resources at your disposal than you've had in recent days.
You may not see a windfall, but it's still a positive affirmation that you're putting your energy into the right areas. With that in mind, it also serves to remind you of the importance of staying grounded and focused while you put your plans in motion.
The Ace of Pentacles is a card of inspiration and celebration. It tells you that the seeds you're planting today can prosper and flourish. As it's also associated with a positive change in fortune, it's telling you to keep up the good work, to go after your dreams, and to be open to all that the Universe has to offer.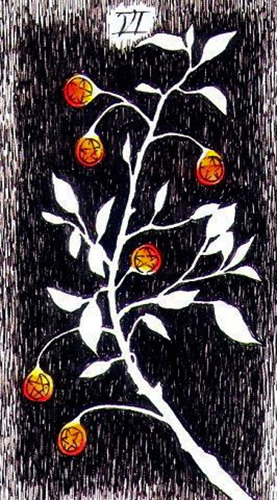 Libra: Six of Pentacles
What if money really did grow on trees? Would you help yourself to more of it? And would you share it with others a little more freely?
The Six of Pentacles is a card of abundance and good-will. It's about aligning yourself with the concept of money as energy that both flows to you and from you with ease. You neither hold onto it too tightly (as with the fours) or worry that you don't deserve it (as with the fives).
This version — from the Wild Unknown Tarot — the six Pentacles are portrayed as ripe luscious fruit, just waiting to be plucked from the branch on which they grow. They stand out brilliantly against the dark backdrop in stark simplicity.
Is it really all that easy? Unfortunately not. But the Six of Pentacles also speaks of helping others when you can afford it (without any expectations for being repaid) and accepting help when you need it (without any sense of entitlement or greed).
It represents prosperity, generosity and benevolence. So while you may be called upon to lend a helping hand, you may also be the benefactor of someone else's generosity. Either way this card speaks of both "spreading the wealth" and "paying it forward," each of which require a measure of gratitude.
Scorpio: Queen of Swords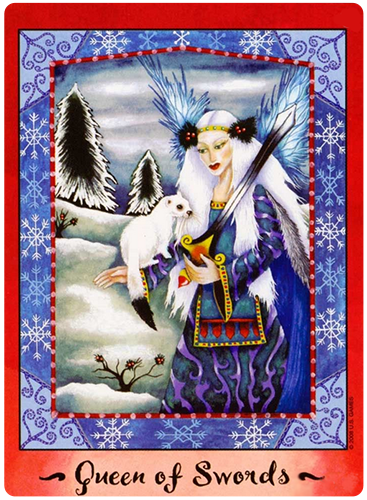 You may have to adopt a bit of an "ice queen" persona this month, much like the Queen of Swords — from the gorgeous Faerie Tarot — depicted in this card.
Sometimes it's necessary to detach yourself from emotional responses in order to get a job done. You may find yourself in a position of authority, having to "lay down the law," or having to mete out justice rather than listening to excuses or rationales.
That doesn't mean you have to be "cold" — even though this Queen and her familiar (a beautiful white stoat sporting his winter coat) are seen here in the midst of an icy landscape. What it does mean though is that you'll have to make decisions based on logic and principle rather than being swayed by emotional attachments.
The Queen of Swords may seem cold, but underneath her icy exterior lies a heart of gold. Notice the fiery hilt of her sword placed directly over her heart. She tends to her pet with the same loving care that a mother expresses for her child. Keep this in mind this month if you find yourself having to mete out justice of your own.
Sagittarius: The Fool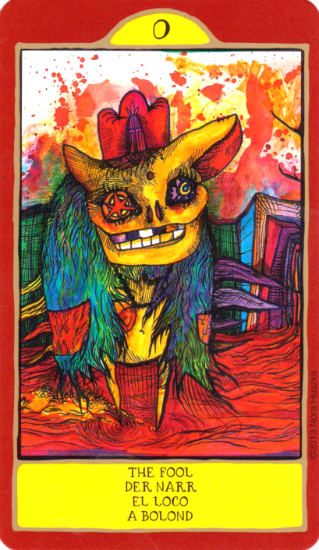 Your card this month is the Fool from the beautiful Gypsy Palace Tarot. It's a creepy. colorful and symbolically saturated version of the card that's associated with "where it all begins."
You may be asking yourself at the midway point of the year: where am I heading and what am i ready to leave behind? The Fool card begs this question, as it brings the past, present and future together into one fleeting moment in time. It asks you to suspend your beliefs and rely on your instincts as you take a leap into the unknown.
This is the first card in the tarot, numbered Zero. It represents the onset of the Fool's journey and refers to new beginnings, fresh starts, a period of awakening and unlimited potential.
The Fool card encourages you to consider the possibilities, no matter how impractical or far fetched they may be. But there may also be uncertainty. The young witch in this card appears a bit more cautious and timid than most. But notice she's moving forward and gaining momentum with every step she takes.
This is the ultimate "leap of faith" card. It's about jumping into the unknown and trusting the Universe will provide a net. You want to think about where you may be focusing too much on the destination (outcome) and not enough on the journey. Think about what new adventures are in store for you, and how suspending all beliefs can get you in the necessary mindset.
CAPRICORN: Strength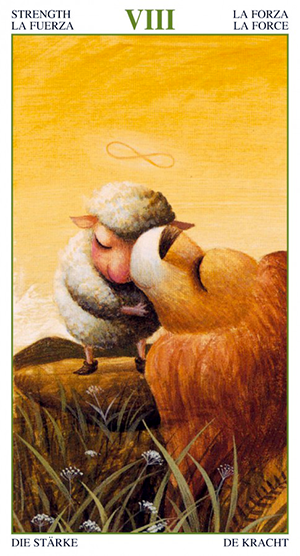 Your ruling planet (Saturn) is retrograding back into your sign this month, where it will remain for the next 5 months. During this time you may find yourself relying on your innermost reserves of strength and resiliency to overcome your fears.
The Strength card — this version from the Tarot of the Magical Forest — is all about mind over matter and gaining control over the things in your life that are at risk for spiraling out of control.
It could be as simple as a pattern of second guessing yourself or talking yourself out of doing what you know is best for you. And it can be as complicated as upholding your part of a bargain you've made with yourself: Quitting smoking for example. Dieting. Sticking to an exercise regimen. Holding your ground against temptations to "give in" when you know that doing so is not going to be in your best interests.
Think about how far you've come in taming your own inner beasts. If you're tempted to throw in the towel, remember that doing so will only cause you to lose momentum.
The Strength card encourages you to not only meet your fears head on, but to transform them by neutralizing the power they hold over you. Once you do that you'll find that they weren't so frightening after all.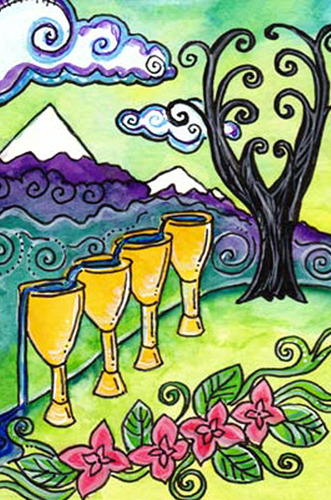 AQUARIUS: Four of Cups
This month Saturn leaves your sign and retrogrades back into Capricorn and your 12th house. As a result, you may find yourself in a bit of a funk at times, or asking "Is that all there is?"
The Four of Cups is a card of disenchantment and apathy. The focus may be on what is lacking in your life, rather than what's right there before you.
A lack of motivation and lethargy are hallmark features of this card, but there are positive aspects too: It's quite good at revealing exactly what's "wrong with this picture" and allows you the opportunity to make it right.
The Four of Cups — this version from Dana Driscoll's Tarot of Trees — is associated with apathy and indifference. This doesn't mean that whatever you desire is lacking — in fact the Cups in this card are not only full but they're all overflowing.
The water (emotions) that pours from one cup to the next is wasted on the ground.The Tree pulls its limbs away from the cups and in toward its own center.
With this in mind, you want to work on doing the same: finding your own center and pulling your energy inward rather than allowing it to scatter to the wind. Whether the Four of Cups manifests for you as disillusionment or personal fulfillment, will depending on how successful you are at achieving that aim.
Pisces: Nine of Cups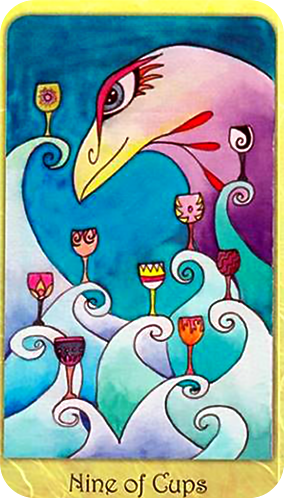 Your card this month is the Nine of Cups, also known as the "Wish card." It's a card of fulfillment and gratitude for all that you have achieved.
In this version of the card, a brightly-colored bird — from the Dream Raven Tarot  — gazes down in admiration upon the nine jeweled goblets that are clasped in the tendrils of her wings.
She scrutinizes each one carefully, and with genuine appreciation. Each one is so distinctive and unique that it must be hard for her to decide which one she likes best.
This a card of abundance, generosity, appreciation and gratitude. Nothing is taken for granted here — it's all about putting out there to the Universe what you want and fully expecting to have it delivered.
At the same time there's a great appreciation for all that you have and a willingness to share it with others.
Along with being the "Wish" card, it's also a card of Miracles. As there's so much more focus on what one has than what one lacks, it's easier to notice small miracles and in even the smallest things.
With that in mind, Count your blessings and expect this month to bring good things!
—————————–
This month's tarotscopes feature some of Ask the Astrologers all time favorite cards.
We hope you like them too! 
Don't forget to check out this month's Horoscopes too!
July 2020 Tarot Scopes
By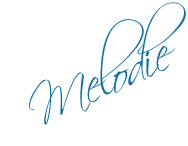 ---
Want to learn more about any of the tarot decks used in these month's scopes? Here are direct links to view or purchase. As Amazon Associates, we may earn a commision from qualifying purchases. Thanks for looking!
---
Sessions
I am available for live chat consultations in 30 and 60 minute increments at the rate of $4 per minute for 30 minute sessions and $3 per minute for 60-minute sessions payable through PayPal.
Please note that I do not offer free readings and these are the lowest rates you will find me at online. I am located in the US, in the Eastern time zone. Payment links are accessible through the sidebar on the right. Feel free to pop into my chatroom if you see me available live, or email me to schedule a session if you don't.
---
July 2020 Tarot Scopes by Melodie