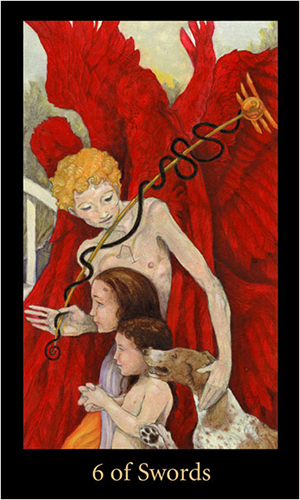 Aries: Six of Swords
WIth your ruling planet (Mars) retrograde for the first part of the month and then moving forward again for the last half, you're likely going to be similarly changing direction this month. If you're making big changes, you'll need to think about what you're taking with you and what you're leaving behind.
This isn't necessarily material things; in fact that's rarely what it means. It's more about attitudes and belief systems, as well as a life you may have built and dreams you may have dreamed that are no longer capable of sustaining you.
The Six of Swords is a card of transition and change. It represents moving to a better place, even if only in your mind.
In this version — from the Mary-el Tarot — we see the Archangel Raphael guiding a pair of young children and their dog across a bridge. Where he's leading them is not seen, but there are elements of safety, protection and comfort in this card, which is a necessary part of trusting in the unknown.
This is the message behind the Six of Swords. You may not be where you want to be just yet, but you're moving in the right direction.
The Six of Swords reminds us that we're not alone. We don't get to the other side without assistance from someone, even when that "assistance" comes in the form of a setback that forces us to change direction.
It also provides clarity and perspective. We may see things we don't want to see — or admit to ourselves — but it's that kind of clarity that motivates us toward change. This is the first step, courtesy of the Six of Swords, toward manifesting your goals.
TAURUS: Four of Swords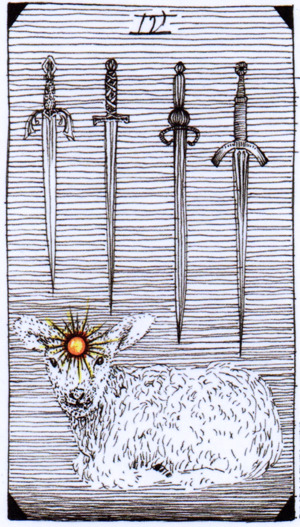 You may feel the need to take a breather this month, to recharge your batteries or to get some much needed rest.
The Four of Swords — this version from the beautiful Wild Unknown Tarot — encourages you to disengage from all the commotion that surrounds you find your strength through rest and recovery.
It could be as simple as getting away for a few days to relax and recharge your batteries. And it could be as profound as going on a life-altering pilgrimage or spiritual retreat.
It refers to removing yourself from all of the distractions in your life and reflect rather than "act." It speaks of detaching from the whirlwind of activity around you and choosing to observe rather than participate.
Swords represent thoughts and ideas and Fours are all related to some kind of structure. Sometimes that structure is positive — as in forming a concrete plan — and sometimes it can be limiting, as in feeling boxed in or restrained.
In this case the focus is on taking time for yourself and aligning body, mind and spirit. If you can't get away there are other ways to regain your sanity. Meditation, breathwork, self-imposed silence, etc. — any of these can help you to de-stress and restore your equilibrium.
While you may feel pressured at times to "get a move on," you'd be best served to stay calm and carry on, rather than let yourself fall out of balance. The Four of Swords reminds you of the need to take care of your inner needs as much as you need to take care of your outer ones.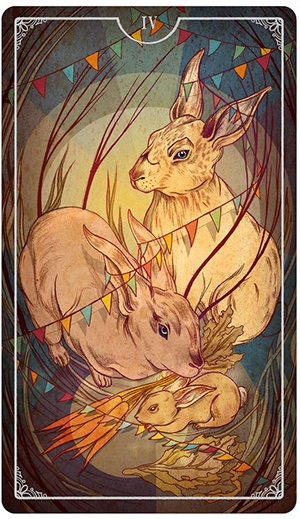 GEMINI: Four of Wands
This month — with your ruling planet (Mercury) turning direct and moving forward early on, you should feel like you're getting your second wind and making strides toward accomplishing what you've set out to do.
The Four of Wands — this version from the Ostara Tarot — delivers a boost of confidence and a renewed sense of validation, It encourages you to push past limitations and reach for the stars.
This card is all about reflecting on accomplishments and looking forward to where those accomplishments may lead. It speaks of rejoicing and celebrating — whether this means planning for a party or special event, or getting yourself out of the doldrums and washing away the blues.
The Four of Wands takes the "dream big" energy that came with the Three of Wands and turns it into something tangible, solid and lasting. It represents a joyous celebration: a marriage, a promotion, the birth of a child.
It tells you that "this is only the beginning" of something you've already established and that it's going to just keep getting better and better.
It's not the time to isolate or withdraw from social opportunities. Look around you and take note of all you've accomplished thus far. Chances are good there's a lot to be grateful for and a cause for celebration right there in front of you.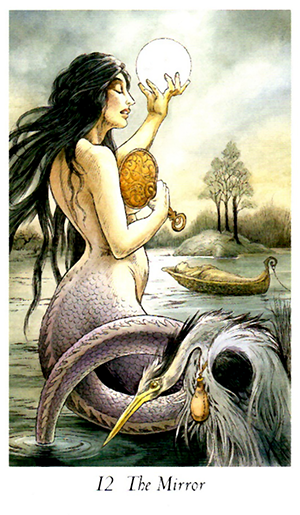 Cancer: The Mirror
This month may see you gaining a better understanding of yourself by looking deep within. This is the Wildwood Tarot's version of the Hanged Man. And like the Hanged Man, there are references of surrender, spiritual growth and sacrifice in this card.
But unlike the Hanged Man, the Mirror card is more about internal awareness than it is about external challenges. There's less emphasis on the suspension of time and more on the process of self-discovery.
The central figure in this card is a Siren who has emerged from the depths of the sea. She holds a mirror in one hand and lifts up a glowing orb in the other. In the foreground we see a crane — messenger to the Gods — and in the distance a small island just beyond a burial at sea.
There are definite surrender aspects to this card. The Mirror itself — held close to the Siren's heart — speaks of looking within, accessing your intuition and embracing all that is reflected back to you. And the orb lifted up towards the heavens speaks of looking outside of yourself for spiritual guidance.
These are both valid endeavors, and both will ultimately move you past some of the obstacles that are hindering your progress.
You may have to detach yourself from other people's expectations, and look within for the answers to your most pressing concerns. It may involve peering into the Mirror for a better understanding of yourself, and it may involve lifting yourself up toward the heavens in search of spiritual illumination. Either way, it leads to new discoveries — about your past, about yourself and about the remainder of your journey.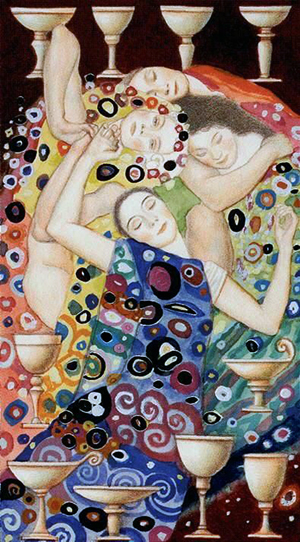 LEO: Ten of Cups
This is a time for counting your blessings and expressing gratitude for the life you've created, as well as the loved ones and family members who've been an important part of it.
It's a time for allowing the Universal blessings of love, gratitude, harmony and grace to flow through you.
The Ten of Cups — this version from the Golden Tarot of Klimt — is a card of serenity, contentment and fulfillment. This ties in beautifully with today's / Moon Venus conjunction and subsequent trine to Neptune.
Sometimes this is a marriage card, a joining together with someone else who shares your happiness. Sometimes it's an accomplishment card — coming to a point where you're able to count your blessings and express contentment with your present circumstances.
This extends well beyond financial or material security. It's more about family, lasting friendships and a comfort — in your home and your community — surrounded by people you love.
You want to align yourself with a vibration of gratitude as the Ten of Cups speaks of not only getting what you've "asked" for (via the principles of law of attraction) but also being thankful for all that you've received.
This is not the time to think about what is lacking in your life but rather what makes it complete. And while you don't want to be resting on your laurels, it's important to acknowledge those who are most important to you and who keep your cup continuously full.
VIRGO: Two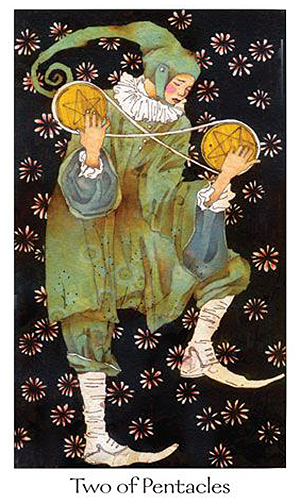 of Pentacles
You're likely to be weighing the pros and cons of an important decision this month. Whether this is related to business, relationships, money, or even a new way of approaching existing problems, it's bound to be weighing heavily on you.
Pentacles relate to tangible or material concerns. In this respect it could be as simple as juggling funds, as in trying to keep afloat financially. You may have to figure out what needs to be done right this very minute, and what can safely be put aside until later.
There's a certain agility that's required here. Even though in this version of the card — from the Dreaming Way Tarot — the Pentacles are encircled by a cord (fashioned into a figure 8 or infinity symbol) it's still necessary to hold onto both of them so that you don't drop the ball.
Patience and dexterity are also necessary, to not only maneuver around the obstacles that may be preventing you from managing your priorities, but also for getting in sync with your own intuition.
The infinity symbol itself is important: even though the figure in this card may appear to be in a hypnotic trance, he's more likely just aligning himself with the natural rhythms of day to day life. It takes as much concentration as it does skill to be able to pull that off.
No matter what you may be weighing this month — and what you may be juggling — keep in mind that there are pros and cons to every decision. The key is to find a way to balance them so that each is given proper consideration.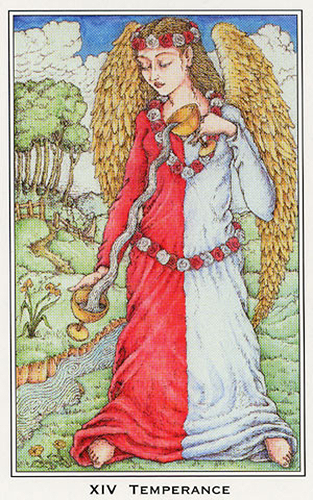 Libra: Temperance
Today's card — Temperance from the Nigel Jackson Tarot –– indicates a need to go with the flow and to find ways to bring the conflicting desires of your being back toward the center.
The Temperance card speaks of searching within yourself for that wellspring of inner grace and finding a way to bring the good and bad, light and dark, happy and sad back in to balance.
This card is called "Art" in some decks. It speaks of the unique creative forces that each of us possess. It speaks of seeking out symmetry and harmony. And it speaks of integrating the opposing areas of your life into one big calm, peaceful and harmonious medium.
In what areas of your life are you too inflexible, too rigid and too unwilling to hear another's point of view? Your challenge will be to overcome those impediments and to integrate the opposing forces in your life.
The Temperance card refers to bringing the opposing facets of your personality (or your relationships, or your desires) into alignment by finding the middle ground. It represents peace and harmony, synthesis and equilibrium, moderation and restraint.
As you can see from the imagery in this card, nothing needs be sacrificed in attaining that balance. Just remember to rise above whatever situations in your life that are pulling you down, without rising so high that you neglect them or fail to take advantage of opportunities to learn from or grow from them.
Scorpio: Eight of Cups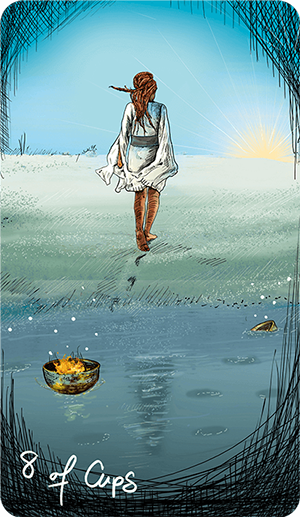 This month may see you taking steps toward leaving behind something that no longer sustains you.
The Eight of Cups — this version from the Light Seer's Tarot — refers to getting in touch with your values, which can be a painful process. It involves forcing yourself to face certain realities and walk away from something (or from someone) that doesn't live up to them.
On the upside it means taking the high road and making a transition. But that doesn't mean it's going to be easy. The Eight of Cups requires you to let go of something — a dream, a relationship, a set of goals, etc. — in order to move to that higher ground.
This is a card of transition, but unlike most, this one comes from conscious choice. It's not a matter of the Universe throwing a curveball at you: it's a decision arrived at through the realization that what once fulfilled you no longer does.
You may feel alone or abandoned during this time — rejected by a loved one or peers. Yet it's your own discontent that prompts you to "walk away," rather than trying to keep up the pretense that those who let you down were ever truly on your side.
This doesn't refer to loss so much as it does to seeing things more clearly and then using that new-found clarity to head toward higher ground. Like the brightly shining sunrise in this card, it's about new beginnings rather than endings. You can see this card as an invitation to strike out on your own, follow your own path and pave your own way.
Sagittarius: Six of Coins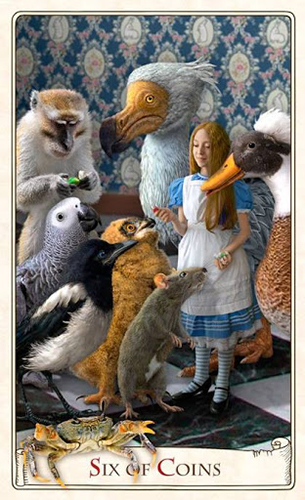 This month you may be called upon to open your heart and loosen your purse strings, as a measure of generosity and goodwill.
The Six of Coins — this version from Baba Studio's Alice Tarot — is a card of charity and abundance. It's about aligning yourself with the concept of money as energy that both flows to you and from you with ease. You neither hold onto it too tightly (as with the fours) or worry that you don't deserve it (as with the fives).
The Six of Coins is all about benevolence — giving what you can afford to give: whether it's of your time, your money or your energy — to someone who needs it more than you do.
This card speaks of understanding the pathways between giving and receiving, to the extent that there are no expectations for being repaid. You give because you can and because the gratitude you receive in exchange is more than enough reward.
This is a reference to the give and take that is a theme in the Six of Coins, and a reminder that what you put out there comes back to you in one way or another. In this respect the Six of Coins invites you to pay attention and be grateful for the blessings you receive.
It represents prosperity, generosity and benevolence. So while you may be called upon to lend a helping hand, you may also be the benefactor of someone else's generosity. Either way this card speaks of both "spreading the wealth" and "paying it forward," each of which requires a measure of gratitude.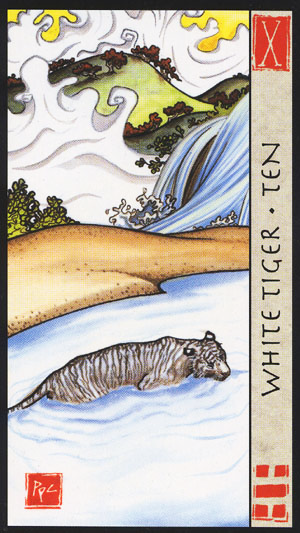 CAPRICORN: White Tiger Ten
There may be times this month, as your ruler (Saturn) moves through the final degrees of your sign, where you feel like you're swimming against the tide, or like you're surrounded by turbulent waters that are rising all around you.
This is the Feng Shui Tarot's version of the Ten of Swords. It's called the White Tiger Ten in this deck, a reference to the completion of the Tiger's tumultuous journey.
You may be longing for a peaceful respite, as seen in the imagery of this card. The waters may be swirling all around the Tiger — and raging in the background — but he doesn't fight against the current; he surrenders to its movement finds a place of calm in its center.
Surrender is a big factor in this card. Surrendering to the knowledge that what you may have wanted so desperately was not what you needed at all.
As the Ten of Swords is often tied to fighting a losing battle — and ultimately giving up the fight — there's a sense of liberation that comes from cooperating with the Universe rather than pitting yourself against it.
This is actually the best recourse for being confronted with insurmountable obstacles. Going with the flow, finding creative solutions to your problems and aligning yourself with unseen forces.
You may have to concede to a few losing battles, but you'll also want to look at how it's brought you to where you are today. Are you not now a stronger and better person as a result? Take some time to put the past behind you and focus on what lies ahead. You may see all that's led you to this moment as a blessing in disguise, as long as you're willing to embrace the changes to come.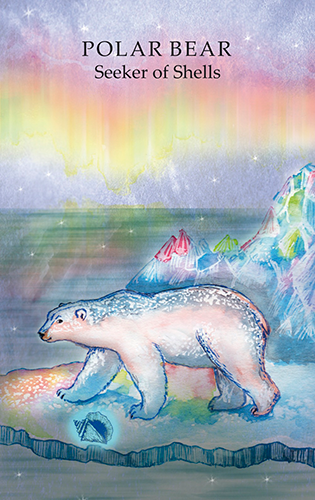 AQUARIUS: Polar Bear
This month is going to be all about getting in touch with your instincts, your environment and your emotions. Where do you fit in and where do you feel most at home? These are questions you'll be asking yourself, courtesy of the Polar Bear — or Seeker of Shells (Knight of Cups) — animal totem.
The Polar Bear is not only completely at home in this version of the card — from the Animal Wisdom Tarot — but he's adapted beautifully to his environment. He's strong and competent, yet light-footed enough to trek comfortably through terrain that could be hostile to others.
Notice the crystals that are forming on the snow, the ice and in the sky above. There are symbols of clarity throughout the imagery of this card, as with the glowing conch shell and even glistening on the Polar Bear's fur.
The Aurora Borealis overhead and the glowing conch shell at the base are reminiscent of glistening jewels, as is the glittering crystal backdrop and the vibrant array of colors that wash over the scene. The Seeker of Shells is a virtual rainbow of emotional expression and experience.
Think about ways that you can translate what you're feeling this month into experiences that can be shared with your loved ones. With several planets moving through the sector related to home and family, this is a good place to start. Your environment — that place you're most comfortable and where you feel most complete — comes to life as you devote yourself to fostering your relationships therein.
Pisces: Eight of Wands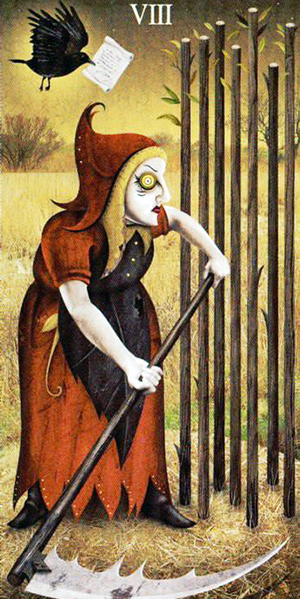 This month you're likely to feel like things are moving very quickly for you, and that you're going to have to stay on your toes to take advantage of all the opportunities coming your way.
The Eight of Wands — this version from the Deviant Moon Tarot — also refers to mobility and change, almost always for the better. This is a time of bursting with new and fresh ideas, juggling interests and overseeing several different projects at once.
This is also a messenger card, so don't be surprised if you receive important news. You may be given the green light to go ahead and get moving on a project that's been in the works for some time.
The Eight of wands is all about action, progress and momentum. It's about getting things done and making things happen. be as simple as ticking off all the little things on your to-do list, and it may be as significant as making great headway on an important project.
While it might feel to you like there just aren't enough hours in the day, you could be surprised when the month is over to see how much you really accomplished.
The Eight of Wands is a high energy card and also sometimes refers to travel. In that respect it relates to being literally and physically on the go. Are you planning a weekend getaway? Use this extra energy to make preparations for your trip.
There's a sense of progress and swiftness in this card, as if to say "things are happening, and they're happening NOW." Everything (the ship. the waves, the dolphins) moves seamlessly forward in this card with all of it gathering momentum. That is the essence of the Eight of Wands. It's about staying focused and present and aligning yourself with what's happening around you so that you become a part of it rather than fighting against it.
—————————–
This month's tarotscopes feature some of Ask the Astrologers all time favorite cards.
We hope you like them too! 
Don't forget to check out this month's Horoscopes too!
November 2020 Tarot Scopes
By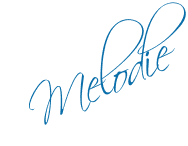 ---
Want to learn more about any of the tarot decks used in these month's scopes? Here are direct links to view or purchase. As Amazon Associates, we may earn a commission from qualifying purchases. Thanks for looking!
---
Sessions
I am available for live chat consultations in 30 and 60 minute increments at the rate of $4 per minute for 30 minute sessions and $3 per minute for 60-minute sessions payable through PayPal.
Please note that I do not offer free readings and these are the lowest rates you will find me at online. I am located in the US, in the Eastern time zone. Payment links are accessible through the sidebar on the right. Feel free to pop into my chatroom if you see me available live, or email me to schedule a session if you don't.
---
The post November 2020 Tarot Scopes by Melodie appeared first on Ask the Astrologers.
November 2020 Tarot Scopes by Melodie