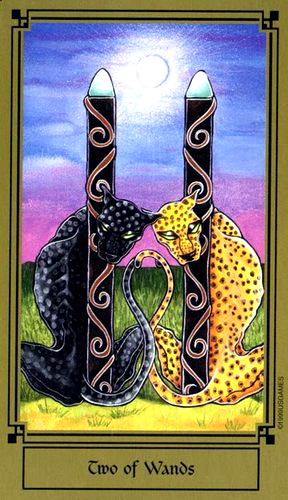 Aries: Two of Wands
Your card this month is the Two of Wands from the beautiful Fantastical Tarot. The Two of Wands — like all Twos — refers to taking the spark of an idea (seen in the Aces) and forming it into a tangible, working plan.
This requires looking at it from all angles — weighing the pros and cons, evaluating time and energy, separating the wheat from the chaff and so on. This is beautifully represented in the imagery depicted on this version of the card.
Here we see two leopards — one dark and one light — each standing watch by their own ornate pillars. The dark leopard is an exact mirror image of the light. Their sleek bodies curve toward one another and become "one," reminding us of the power of uniting opposing forces to make one stronger entity. The Sun shines high in the sky between them.
The key here is balance: you won't be able to make something happen without careful consideration and planning. And all the planning in the world won't cause your ideas to materialize without putting in the effort.
There's a certain give and take with the Two of Wands (as with all Twos in the tarot) that is mirrored right back to you. There's also a need for discrimination — throwing out the unrealistic or half-baked ideas and focusing on what has a genuine shot at being successful. The Two of Wands requires you to be objective and this is why it's always wise to bounce your ideas off of another.
If you want to make something happen this month, prove it by participating in its development. The outcome you achieve will be directly proportionate to the energy you put into making it manifest.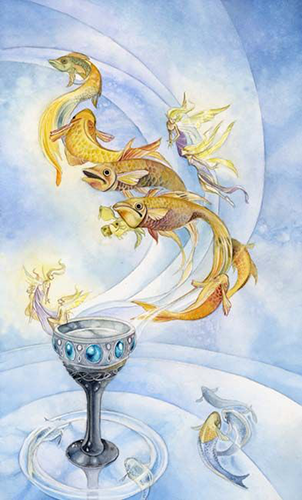 TAURUS: Ace of Cups

With four planets (and the New Moon) all moving through your house of creativity, self-expression and love, you're likely to be feeling more receptive to romance and affection than usual this month.
The Ace of Cups — from the Shadowscapes Tarot depicts this energy beautifully. You can see ripples emanating from the base of the chalice that rests at the bottom of the card.
Waves of movement and energy flow from the mouth of the chalice as well, as small schools of fish and fairies swim along in the currents.
The Ace of Cups is a card of emotional abundance and fulfillment. It's "love" in its purest form: the compassionate, unconditional, all-encompassing form of love that is the essence of the Pisces archetype.
Mars moving into Pisces speaks of making bold strides toward immersing yourself into these realms. There's a pull toward increased creativity, inspiration and intuition as well.
If there's a downside to this energy, it's the tendency to lack motivation and purpose. Too much "going with the flow" can see you being carried aimlessly along with life's currents.
You want to keep this is mind when it comes to making decisions and asserting your needs to others. This is a time of giving and receiving: and you can derive as much pleasure through giving as you can through expressing gratitude for all that you receive.
The Ace of Cups represents a bottomless and reflective pool of love, compassion and emotional expression. You want to open your heart and let that love flow both from you and to you — while at the same time keeping your boundaries clearly defined.
GEMINI: Ten of Cups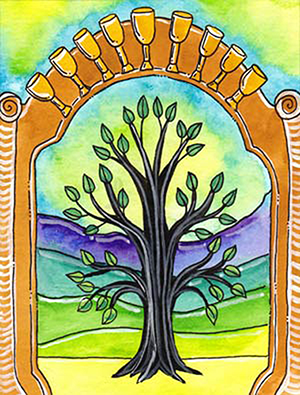 This month, with five planets moving through your area of home, family, security and roots, you're going to be focusing more on these areas and on the life you've built for yourself.
These transits, along with the Ten of Cups from Dana Driscoll's fabulous Tarot of Trees, are all about family, camaraderie, hospitality, togetherness and benevolence.
They're about joining together with like-minded people to create a reality you can be proud of. They're about arriving at a place in your life where you can celebrate the relationship you've developed, with friends, family members and romantic partners.
This tree didn't grow to such heights overnight. It's been tended to over the years, just as your relationships must be tended to. And like those relationships, it's taken a central place in this card, framed by an archway lined with 9 golden cups. The 10th is the tree itself, into which all of the love, kindness and gratitude has been poured.
The Ten of Cups refers to achieving something that is worth acknowledging and celebrating, as seen here in the imagery of this card. It's about fulfillment and security; a solid foundation of abundance and prosperity, and the sense that you have built something you can take pride in.
Take time this month to let those nearest and dearest to you know how important they are. While the Ten of Cups is also said to indicate the culmination of something, that doesn't mean you've come to the end of the road. This card is all about embracing all you've established through your connections and interactions with those who matter most — with your family, friends and loved ones.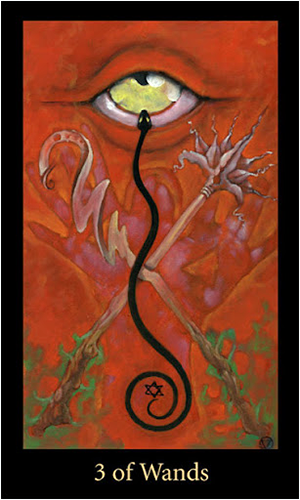 Cancer: Three of Wands
This is a month for looking all around you and seeing how the world offers infinite possibilities. It's a time for painting your own canvas and creating your own destiny, courtesy of the Three of Wands from the fabulous Mary-el Tarot.
Moving ahead can mean leaving something behind. Something like a dull dreary existence or a reality that no longer suits you.
It may mean taking a risk, striking out toward uncharted territories and expanding your horizons so far and wide that you not only don't know where the road you're on leads, but are ready to make your imprint on it wherever you go.
The Three of Wands is a card of expectation and anticipation. It's says that you've already started to hit your stride. It says you've already done the groundwork and are now ready to strike out and make all that you've dreamed of a reality.
It's about opening the door to possibility and setting your sites on distant horizons. What can I do with what I already have to make a difference in the world? What do I have to offer that will bring the greatest reward? These are the questions you want to be asking yourself right now.
You may already have a project in the works, in which case you're probably beginning to see the fruits of your labors. This card encourages you to push past your limitations and expand your worldview. It will mean stepping outside of your comfort zone and exploring uncharted territories. And while you may run into pitfalls or have to take detours along the way, know that these are often blessings in disguise that can open you up a whole new world of opportunities.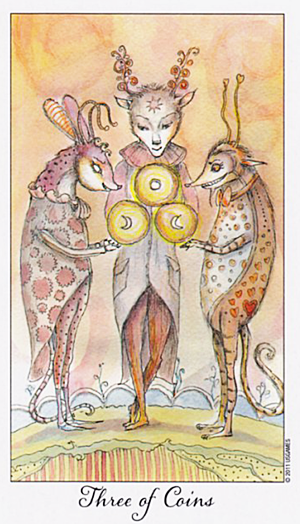 LEO: Three of Coins
This month — with several planets (including the New Moon) in your income and earnings sector — you should be focused on making money and seeing your efforts paying off. The Three of Coins is a "teamwork" card, among other things.
This card — from the beautiful Joie de Vivre Tarot — speaks of hitting your stride and seeing initial results of something you've been working hard on. Sometimes you need help to take it to the next level, even if that comes in the form of a critical eye.
The Three of Coins — like all threes — refers to the initial stages of progress where you've taken an idea (the Ace), put it into production (the Two), and are making progress now toward creating something real (the Three).
The imagery in this card describes this process beautifully. All three of these creatures are working together in harmony, with the central figure holding a coin that has a Full Moon inscribed on it while the other two are presenting him with coins of their own: one with a crescent (New) Moon and the other a crescent (Balsamic) Moon. These three phases of the Moon refer to the stages of a project from start to finish.
There's an interdependence depicted here and a camaraderie. Each of these figures needs the others and all of them are contributing equally.
It's a good time to reach out to others and ask for help if you need it. It can't hurt to offer it to those who'd benefit from your assistance too. You may need a little push to get past a hump, or you may need the discerning eye of someone you trust.
The Three of Coins says that you're making progress and should be feeling good about what you've accomplished so far. But there's still work to be done, and you won't be able to do it alone.
VIRGO: Temperance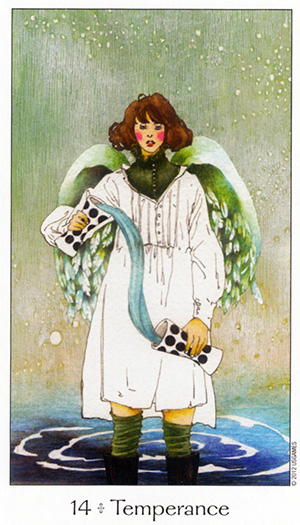 Your card this month — Temperance from the Dreaming Way Tarot — indicates a need to go with the flow and to find ways to bring the conflicting desires of your being back toward the center.
With several planets moving through your sign now (as well as this month's New Moon), this shouldn't be too hard.
The Temperance card speaks of searching within yourself for that wellspring of inner grace and finding a way to bring the good and bad, light and dark, happy and sad back in to balance.
This card is called "Art" in some decks. It speaks of the unique creative forces that each of us possess. It speaks of seeking out symmetry and harmony. And it speaks of integrating the opposing areas of your life into one big calm, peaceful and harmonious medium.
In what areas of your life are you too inflexible, too rigid and too unwilling to hear another's point of view? Your challenge will be to overcome those impediments and to integrate the opposing forces in your life.
The Temperance card refers to bringing the opposing facets of your personality (or your relationships, or your desires) into alignment by finding the perfect middle ground. It represents peace and harmony, synthesis and equilibrium, moderation and restraint.
As you can see from the imagery in this card, nothing needs be sacrificed in attaining that balance. Just remember to rise above whatever situations in your life that are pulling you down, without rising so high that you neglect them or fail to take advantage of opportunities to learn from or grow from them.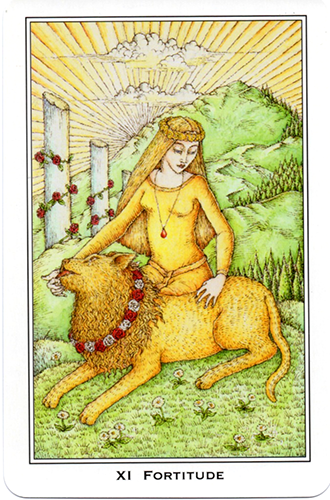 Libra: Fortitude

Your card this month — Fortitude from the Nigel Jackson Tarot — refers to the inner reserves of strength, courage and discipline that are called for in moments of fear or uncertainty.
You may be feeling hesitant about something that threatens to disrupt your daily routine. Or you may be trying to put on a brave face and tackle something that scares you or takes you outside of your comfort zone.
Interviewing for a job. Making a presentation. Confronting an adversary. Expressing emotions. In other words, anything that's been known to trigger fear or anxiety for you in the past.
This card is called "Strength" in most decks. It refers to the mental, emotional and spiritual aspects of strength, such as willpower and self-restraint. It's about taking charge of your life and taking back your power — over your fears and compulsions and ultimately your destiny.
Look at the images in this card. Notice how gently the woman strokes the lion's back and how he reciprocates by lapping at her hand. This is the essence of the Strength card. It's about taming the beast within while at the same time lauding its virtues.
You don't ever want to douse the flames that fuel your inner "lion." But you can learn to harness that energy and channel it into something both powerful and magical.
If you're met with challenges this month that threaten to disrupt your stride, reach deep within and tap into those inner resources. You may not have any control over the events that happen in your life, but you do have complete control over how you choose to react to them.
Scorpio: Three of Cups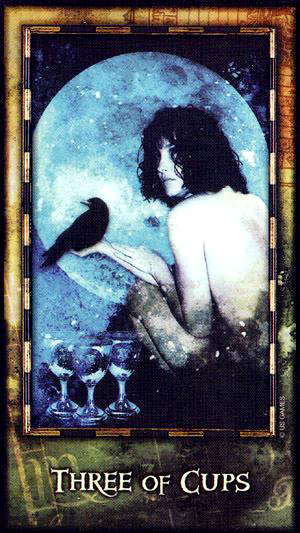 You may have plenty of people around you (friends and lovers and a solid support network), but are starting to see how your greatest fulfillment comes from within.
The Three of Cups — this version from Timothy Lantz's Archeon Tarot — is usually associated with merriment and gaiety — a celebration amongst friends, but in this version we see how this is not always the case.
A solitary figure, depicted here as a young woman seated before a full moon, looks contentedly over her shoulder. Three goblets stand upright beside her and a raven rests in her hand. She's basking in the glow of the full moon (representing intuition and sensitivity) while holding the mysteries of life (the raven) in the palm of her hand.
Perhaps she's alone, or perhaps her loved-ones are just out of sight. Either way, she seems fulfilled and content and "complete" in her solitude.
This card represent a positive confirmation that you are as at one with yourself and your surroundings as you are in the people who love and support you. You have been able to turn loneliness into contentment, and discontent into personal fulfillment.
Perhaps you're now realizing that you don't need someone else to make you whole. Or maybe you're at a place in your life where you realize the true meaning of loving yourself. It's the first step toward creating a connection with others, yet once you achieve it you begin to realize that loving yourself is often enough.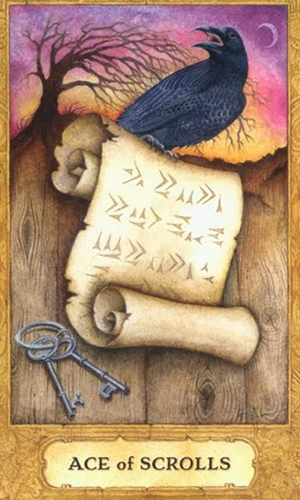 Sagittarius: Ace of Swords
Your card this month — the Ace of Swords — is all about achieving the kind of clarity that's necessary to focus your intentions and accomplish your goals.
The Ace of Swords — this version from the Chrysalis Tarot — can be used as a tool for manifesting. It is raw, pure, unharnessed energy that can be channeled into something both powerful and magical.
It can act as a lightning rod for either positive or negative energy, depending on how it's used. It refers to getting to the heart of the matter, cutting through the BS, speaking your mind and honoring your truth.
It can be victorious or it can be defiant. And there's no saying which one this one is. But that's also a part of taking back your power — deciding whether you want to wield your sword for the greater good or use it as a weapon.
When used negatively it really does "cut like a knife" with respect to cruelty or hurtful words. For this reason it's sometimes best to put some distance between yourself and whatever outside influences are triggering reactions.
You don't want to hurt anyone's feelings and you don't want to risk being rejected — so you find yourself biting your tongue and being resentful for it later. For this reason you'll have to bite the bullet and make sure you're able to get to the heart of whatever has been troubling you.
Think about what's been weighing on your mind that needs to be decided once and for all. And what discussion needs to be had in order to iron out any differences. The Ace of Swords encourages you to speak truthfully, but to do so from the heart. Be considerate of the feelings of others: remember that words can be both helpful and hurtful, so be sure to use yours wisely.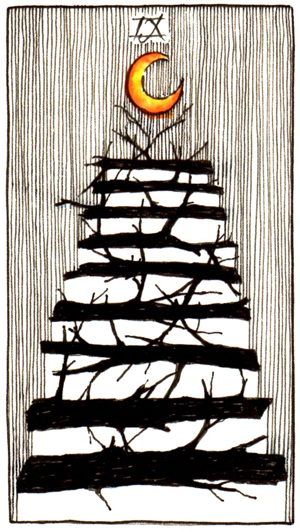 CAPRICORN: Nine of Wands
This month — with your ruler (Saturn) turning direct again after 4-1/2 months in retrograde motion, you may be preparing to start climbing that ladder of success again, no matter how arduous that may seem.
If you've been thinking about where you're heading — in your relationships, with your career, or in your life in general — now is the time to reflect on how far you've come and to make preparations for whatever obstacles may still lie ahead.
You may be hesitant about what the future holds, especially if things aren't laid out before you in ways that are crystal clear. Like the gnarled and twisted branches in this card — from the Wild Unknown Tarot — there may be hazards along the way that you'll need to be on the lookout for.
The Nine Wands in this card are actually actually stair steps that have been haphazardly thrown together with bare, uneven branches. The staircase narrows as it reaches closer to the top, where it leads to a crescent moon (new beginnings) that is lighting the way.
It looks like it's going to be a treacherous climb, and you certainly won't be able to take shortcuts. If you want to make it to the top you'll have to use forethought and ingenuity, much as you do in real life. But if you're willing to take on the task, it's going to be well worth it in the end.
The Nine of Wands asserts that while things may not be easy — and while there are bound to be more challenges ahead — it's hardly the time to throw in the towel. You need only think about how far you've come (and how much you've already accomplished) to find the motivation to push ahead.
AQUARIUS: Six of Pentacles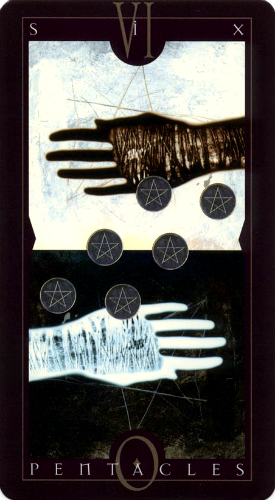 This month, with several planets and the New Moon all moving through your 8th house — the area associated with joint resources and other people's money — you may feel the need to reach out to someone and lend a "helping hand."
The Six of Pentacles — this version from the Vertigo Tarot — is all about benevolence: giving what you can afford to give: whether it's your time, your money or your energy, to someone who needs it more than you.
In this version of the card we see the mirror images of a positive and negative (or black and white) set of hands. Six coins (pentacles) are spread across the images, also in perfect harmony.
As stark as the imagery in this card is, the message is still very clear. Along with the obvious first impression: "one hand washing the other," there's an implicit understanding that everything we put out there comes back to us eventually, in one way or another other.
Money is only one form of energy. And yet most of us struggle trying to balance the value we place on it with the value we place on other forms. We think mainly of money when we think of giving, but we all know that the things that matter most turn out not to be "things" at all. They're more likely to be words of encouragement, validation and support.
The Six of Pentacles serves as a reminder to pay attention to (and be grateful for) the blessings that you receive. You may find yourself loosening your purse strings after all, or you may find yourself the recipient of someone else's good will.
Either way, it's all about appreciating the pathways between giving and receiving, to the extent that there are no expectations for being repaid. The Six of Pentacles encourages you to give because you can and because the gratitude you receive in exchange is more than enough reward in the end.
Pisces: The Mirror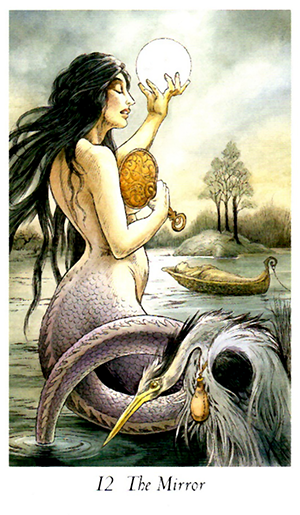 The Mirror is the Wildwood Tarot's version of the Hanged Man. And like the Hanged Man, there are references of surrender, spiritual growth and sacrifice in this card.
But unlike the Hanged Man, the Mirror card is more about internal awareness than it is about external challenges. There's less emphasis on the suspension of time and more on the process of self-discovery.
The central figure in this card is a Siren who has emerged from the depths of the sea. She holds a mirror in one hand and lifts up a glowing orb in the other. In the foreground we see a crane — messenger to the Gods — and in the distance a small island just beyond a burial at sea.
There are definite surrender aspects to this card. The Mirror itself — held close to the Siren's heart — speaks of looking within, accessing your intuition and embracing all that is reflected back to you. And the orb lifted up towards the heavens speaks of looking outside of yourself for spiritual guidance.
These are both valid endeavors, and both will ultimately move you past some of the obstacles that are hindering your progress.
Speaking of obstacles, the suggestion that something must also be put to rest — in this case a body awaiting its journey into the afterlife — is clear. Sacrifices must be made and insights must be gained in order to get to the "other side."
You may have to detach yourself from other people's expectations, and look within for the answers to your most pressing concerns. It may involve peering into the Mirror for a better understanding of yourself, and it may involve lifting yourself up toward the heavens in search of spiritual illumination. Either way, it leads to new discoveries — about your past, about yourself and about the remainder of your journey.
——————-
This month's tarotscopes feature some of Ask the Astrologers all time favorite cards.
We hope you like them too!
Don't forget to check out this month's Horoscopes too!
September 2019 Tarot Scopes
By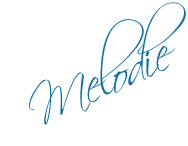 ---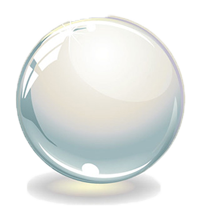 Thinking about learning Astrology? I highly recommend Stephen Arroyo's Chart Interpretation Handbook and Demetra George's Astrology for Yourself.
Steven Forrest's Inner Sky and Changing Sky books are classics that every serious astrologer has in their library, as is Tracy Marks' Art of Chart Interpretation.
As an Amazon Associate I earn from qualifying purchases such as these, so please do take a moment to check them out.
Sessions
I am available for live chat consultations in 30 and 60 minute increments at the rate of $4 per minute for 30 minute sessions and $3 per minute for 60-minute sessions payable through PayPal.
Please note that I do not offer free readings and these are the lowest rates you will find me at online. I am located in the US, in the Eastern time zone. Payment links are accessible through the sidebar on the right. Feel free to pop into my chatroom if you see me available live, or email me to schedule a session if you don't.
---
September 2019 Tarot Scopes by Melodie