Here is the Ask the Astrologers Weekly Forecast for the week of Apr 6, 2020 – Apr 12, 2020:
This week starts with a first quarter (Gibbous) Moon in Virgo on Monday. As Virgo is the sign associated with humility, productivity, self-improvement and service to others, this Moon is great for shifting our collective focus toward these areas.
It opposes Neptune and Mercury in Pisces straight away, so you don't want to act on every brilliant idea that pops into your head. The potential for deception — including self-deception is strong. Fortunately it also trines Pluto and Jupiter before moving into Libra where it then trines Saturn before the day is through.
These lunar aspects are fleeting because the Moon moves through the zodiac so quickly; it will have gone through 13 degrees in that 24-hour period. Even so, it can change the whole mood and can act as a trigger for other more aggressive transits.
That Libra Moon becomes a part of grand Air trine with Venus (in Gemini) and Saturn (in Aquarius) on Tuesday. This is said to be a benefic configuration, with the planets involved all supporting one another in harmony. Although the Moon portion will only be in effect in the early morning hours, this is still a favorable aspect, especially as both Saturn and Venus are dignified.
Also on Tuesday, we have Mercury sextiling Pluto, and Mars squaring Uranus. The Mercury / Pluto sextile is all about deep thoughts and penetrating insights. But you don't want to keep these to yourself. The sextile speaks of joining hands with others, and sharing information that causes people to stop and think.
The Mars / Uranus square is a whole different ball game. It can be volatile and combative, especially with both of these planets in fixed signs. Uranus in Taurus can be rigid and unyielding while Mars in Aquarius is invested in being right. But them together in a hard (square) aspect and you might see fireworks erupt.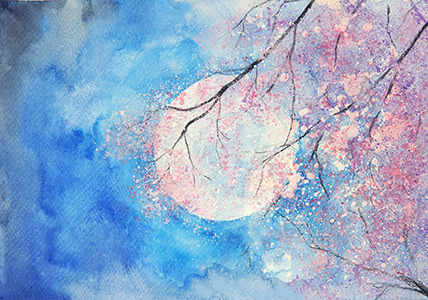 We have a Full Moon on Wednesday, at 18° Libra 43′. It takes place at 2:34 am (UT) or for those in the US it's about 4 hours earlier, or 10:34 pm EDT on Tuesday night.
This is also a Super Moon — the largest and brightest one of the year — and the second of three Super Moons in a row. We had one last month in Virgo and will have another one next month in Scorpio.
The April Full Moon is known as the Full Pink Moon, (named so for the beautiful blankets of fragrant pink flowers (phlox) that bloom at this time of year).
The April Full Moon emphasizes the Aries / Libra polarity's natural association with relationships of all types, with Aries representing "the Self" and Libra representing "the Other." The theme here is figuring out where certain people fit in your life without focusing so much on one type of relationship so that you invalidate the other.
As Full Moons are said to shine a spotlight on areas in your chart that are affected (by house position and contacts to other planets) you might look to your own natal chart to see where this will play out for you.
In general, the Full Moon provides an overview of the progress you've made since its New Moon counterpoint on April 5th. Seeds that were planted then will surely have sprouted; do you need to make adjustments or change your course entirely? Now is the time to think about what you've accomplished and where you want to go from here.
SInce it's in Libra the focus is on fairness, objectivity and impartiality. It's good for social interactions that call for cooperation and collaboration, as it strives for balance and harmony at all times.
We also have a couple of sextiles on Wednesday: one involving Mars and Chiron and the other involving Mercury and Jupiter. The Mars / Chiron aspect comes on the heels of the Mars / Uranus square, which is still in effect. It can soften some of that combative, erratic Uranian energy, which is always a good thing. This aspect may make it a little easier to acknowledge other people's points of view and to see value in where they're coming from.
Mercury and Jupiter make up what is called a planetary pair as the rulers of opposing signs. The sextile between them is  great for sitting down and having a heart to heart with a loved one. It's a light-hearted and engaging aspect that emphasizes sharing, learning and exchanging ideas. It says you can keep things interesting without going too deep; you can have playful and pleasant encounters with others without worrying about stepping on anyone's toes.
These transits are still active on Thursday and Friday,  even if there's not a lot going on in the calendar below. The Moon moves into Taurus and forms a t-square with Mars and Uranus, which warns you against getting into any confrontations with others (you will lose). 
On Thursday moves up to its exact degree of exaltation — 19° Aries. The Sun is exalted in Aries (even though it "rules" Leo) because Aries begins at the vernal point — the first moment of Spring — and as such represents the spark of life from which all everything else is born. 
It's exalted at the 19th degree of Aries because that is the square root of the 360 degree circle. Venus, Saturn and Neptune area also favorably posited during this time so lets hope some of that dignified energy rubs off on us; we could use it right about now.
Mercury moves into Aries and sextiles Saturn on Saturday. just as Venus sextiles Chiron. Starting with the Mercury ingress into Aries: Mercury has some dignity here too, as the esoteric ruler of Aries. Mercury in Aries is good for taking a stand, saying what's on your mind, being bold and brave in your communications with others, and putting yourself out there. It's better at talking than listening and is not so good at tact and diplomacy so keep that in mind in your interactions with others.
The sextile to Saturn should mitigate that somewhat, as it lends an air of discipline and structure. And the sextile between Venus and Chiron can see you becoming more aware of your own capacity for giving and for being able to put yourself in other people's shoes. This is a charitable aspect that compels you to reach into the very depths of your soul — where compassion, forgiveness and understanding all reside — and bring forth that which is within you in order to pass it onto others.
We wind the week down with a Mercury square to the North and South Nodes on Sunday. This is referred to by classical astrologers as "at the bendings." This can indicate a period of crises with emphasis on the concept of fate. As Mercury represents thoughts, ideas, communications and mental activities, this can translate literally as a crisis in consciousness.
It can also manifest as inconvenient or uncomfortable discussions. Feeling like you're being put on the spot or forced to answer questions you're not prepared to answer. As Mercury is in Aries, you'll have little patience for confrontational people, so steer clear of heated discussions and exercise restraint.
That's it for this week. See you next week!
---
Here is this week's astro calendar; click on it to view it full-sized.

---
Weekly Astro Forecast —
Apr 6, 2020 – Apr 12, 2020
---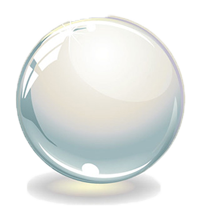 Thinking about learning Astrology? I highly recommend Stephen Arroyo's Chart Interpretation Handbook and Demetra George's Astrology for Yourself.
Steven Forrest's Inner Sky and Changing Sky books are classics that every serious astrologer has in their library, as is Tracy Marks' Art of Chart Interpretation. As an Amazon Associate I earn from qualifying purchases such as these, so please do take a moment to check them out.  
Sessions
I am available for live chat consultations in 30 and 60 minute increments at the rate of $4 per minute for 30 minute sessions and $3 per minute for 60-minute sessions payable through PayPal.
Please note that I do not offer free readings and these are the lowest rates you will find me at online. I am located in the US, in the Eastern time zone. Payment links are accessible through the sidebar on the right. Feel free to pop into my chatroom if you see me available live, or email me to schedule a session if you don't.
---
This article also appears on the Psychic Scoop website.
Weekly Astrology Forecast — Apr 6, 2020 – Apr 12, 2020