Here is the Ask the Astrologers Weekly Astro Forecast for the week of Aug 12, 2019 – Aug 18, 2019:
This week starts on Monday with Uranus going stationary retrograde, where it will remain for the next five months. As with all retrogrades, the planetary energy is turned inward, making those sudden flashes of Uranian brilliance and insight all the more real.
Uranus is known as the "great awakener" and loves to shake things up — just to make sure we're paying attention. It's a naturally rebellious archetype, but the retrograde makes it less about bucking the system and more about challenging our own deeply personal ideals. Uranus will retrograde back to 2o Taurus 39, before it turns direct and starts moving forward again (on January 12, 2020).
Stationary planets are known to concentrate — and magnify — the energy associated with that planet, so we can expect the unexpected over the next several days. Jupiter is also stationary now (having just turned direct), and will semi-sextiile Saturn on Tuesday. Although Jupiter is currently besieged by Mars and Saturn, it's still dignified in own sign and finally moving forward again.
As semi-sextiles act as instruments of transition from one sign archetype to the next, this one — involving Jupiter and Saturn — is good for taking all that you've learned (Jupiter) and turning it into something tangible and real: like starting a new business venture or making a complete career overhaul (Saturn).
On Wednesday, Venus conjuncts the Sun. This is a superior conjunction, meaning that Venus will shift from morning star (rising ahead of the Sun) to evening star (setting after the Sun) in the coming days. This is also referred to as Venus Hesperus and is associated with a more thoughtful, strategic relationship style. Where the morning star Venus is associated with passion, impulse and "following your heart," the evening star Venus is more "think first and act later" — at least in matters of the heart.
But before Venus makes its appearance in the evening sky, It will be hidden from view (obscured by the Sun's rays) until around the 1st of October. This condition is referred to astrologically as "combust." As Venus represents love, beauty and personal values, this transit can bring you closer to loved ones, or it can bring someone new into your life. It can manifest too as a conduit for clearing up relationship misunderstandings and bringing you and your loved ones get back into sync.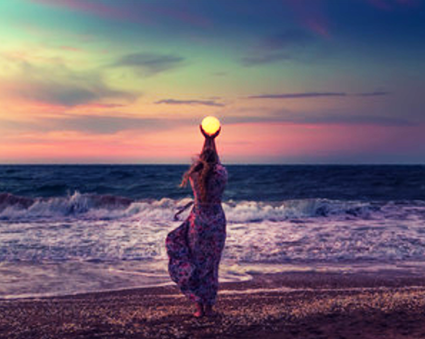 On Thursday, there's a Full Moon at 22o Aquarius 24. The August Full Moon — this one occurs at 2:29pm UT — is called the Sturgeon Moon in Native American traditions, so named for the abundance of this breed caught during this time of year. It's also sometimes known as the Green Corn Moon, Grain Moon and Red Moon.
The Full Moon each month provides an overview of the progress you've made since its New Moon counterpoint in early August. Seeds that were planted then will surely have sprouted; do you need to make adjustments or change your course entirely? Now is the time to think about what you've accomplished and where you want to go from here.
Because it's in Aquarius, the emphasis is on humanitarian ideals; recognizing that there's a place in the world for all of us and that we each have something unique to contribute. This Moon also emphasizes progress, activism and uniqueness. It speaks of figuring out who we are as a unique individuals, and what impact we want to make on the world at large.
Also on Thursday, Mercury trines Chiron. This transit brings elements like compassion, humility and tolerance into the mix, which makes social interactions so much more pleasant. With both planets in fire signs, the desire to express yourself freely without fear of judgment from others is greatly enhanced.
Mercury next moves up and squares Uranus on Friday. With this aspect in play, you may find that people are more argumentative than usual or so invested in being right that they don't bother with evidence or logic. You might have to ask yourself whether it's worth it to engage someone who doesn't want to hear what you have to say. It may be best to just them rant rather than trying to poke holes in their theories.
This aspect is very tangential and distractible too. It can make it hard to think, to fall asleep or to complete tasks that require you to focus. You may find yourself being pulled in several different directions mentally — and the good news is that allowing it to happen can bring in flashes of genius and insight that wouldn't have been available to you otherwise.
In the meantime, both Venus and Mars are still combust (in the "heart" of the Sun, or under the Sun's beams). And by Saturday, Venus will have moved behind the Sun and separated from its conjunction, where it will remain obscured until it re-emerges (as a morning star) around October 1st. Mars doesn't conjunct the Sun until September 2nd, but it's also currently combust and will remain so until late October.
On Sunday, Mars leaves Leo behind and moves into Virgo. Mars in Virgo likes to focus on making things better. The emphasis is on self-improvement (and improvement in general) which means that any flaws or imperfections get noticed right away. It can be critical and nitpicky, but is an excellent placement for those invested in getting the job done.
This transit can see you ready to put your nose to the grindstone and make great strides toward completing half-finished projects. It's good for taking on highly-detailed (and potentially monotonous) work, laying the groundwork for a project that will need to come together in stages, or just in general building a better mouse-trap.
That's it for this week. See you next week!
---
Here is this week's astro calendar; click on it to view it full-sized.

---
Weekly Astro Forecast —
Aug 12, 2019 – Aug 18, 2019
---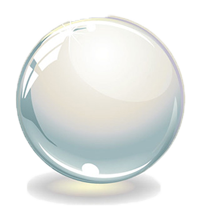 Thinking about learning Astrology? I highly recommend Stephen Arroyo's Chart Interpretation Handbook and Demetra George's Astrology for Yourself.
Steven Forrest's Inner Sky and Changing Sky books are classics that every serious astrologer has in their library, as is Tracy Marks' Art of Chart Interpretation.
As an Amazon Associate I earn from qualifying purchases such as these, so please do take a moment to check them out.
Sessions
I am available for live chat consultations in 30 and 60 minute increments at the rate of $4 per minute for 30 minute sessions and $3 per minute for 60-minute sessions payable through PayPal.
Please note that I do not offer free readings and these are the lowest rates you will find me at online. I am located in the US, in the Eastern time zone. Payment links are accessible through the sidebar on the right. Feel free to pop into my chatroom if you see me available live, or email me to schedule a session if you don't.
---
This forecast also appears on the Psychic Scoop website.
Weekly Astrology Forecast — Aug 12, 2019 – Aug 18, 2019: